MAINTENANCE & INSPECTIONS
---

When a maintenance request comes in, we create a work order and email it to the assigned vendor. At that time, the tenant is sent an update with the assigned vendor and the owner is sent an update with the work order information as well. If owners have any information to add, this allows time.
The management contract indicates that we offer a $500 cost control guarantee that can be spent without consulting an owner (state required repairs, such as water heaters and AC in extreme heat are naturally an exception), but this system allows for owners to be kept aware of the situation regardless of the severity of the repair. Copies of the invoices are available at any time.
We conduct inspections upon move-in and move-out and ensure all maintenance issues are addressed in a timely manner.
Move in/out inspections are backed up by photos to show the condition of the property at the time of inspection.
When a tenant moves out, Bridges Realty staff will perform a move-out inspection and create work orders to address any necessary cleaning or repairs.
Tenants charges are assessed accordingly and the owners are informed of any items that need to be addressed that would be the responsibility of the owner. Work is performed efficiently, and the home is ready for new tenants! All homes are re-keyed between tenants.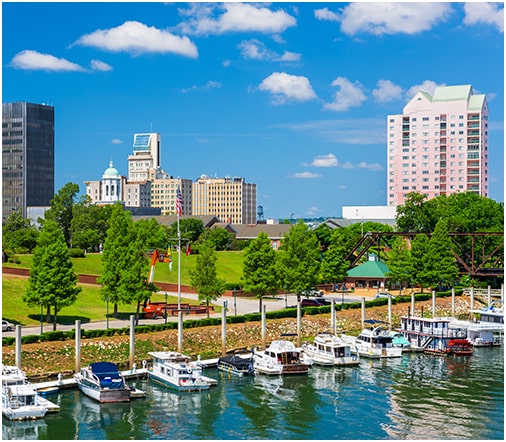 Augusta Area Information
---
The Garden City of the South, Augusta is home to the globally-recognized Masters Tournament, birthplace of Soul Icon James Brown, the US Army's Cyber Center of Excellence at Fort Gordon, and one of the biggest Half Ironmans in the United States. Augusta's Higher Education includes, Augusta University, Augusta University Medical, Augusta Technical College and Paine College. There are eight area hospitals with widespread reputations for advanced care in pediatrics, burn treatments, strokes, cancer treatments and more. Augusta is host to several events and festivals including the Farmer's Market by the river and frequent outdoor concerts at the nearby Augusta Commons.
What Our Clients Say
In need of Augusta Property Management?
---

Property
Marketing

Tenant
Screening

Rent
Collection

Property
Inspection

Financial
Reports
We can relieve the day to day stress of managing a rental.
Get a Quote